CHESSBOOK REVIEWS

---




---

Latest book reviews of 1 February 2017
BOOKS REVIEWS BY JOHN ELBURG.



Wilhelminalaan 33 

7261 BP RUURLO 

The Netherlands.

---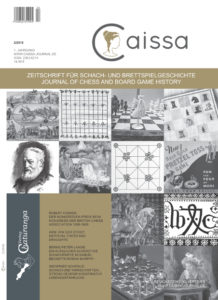 Caissa
2/2016
1.Jahrgang
Verlag Chaturanga
Friedrich Eert-Strasse 16
66538
Neunkirchen
www.caissa-journal.de
E-mail Kundenservice@chaturanga.de
Price €14,90


Dr.Mario Ziegler was so kind to send me of his so excellent magazine Caissa (No. 2/2016) which has just been released.
And again a super filled issue with over 90 pages!
But first a contents of this so careful made work:
Dr. Robert Hübner: Der Mongredien-Preis beim Kongress der British Chess Association 1868-1869
Dr. Adrian Harvey: Finding a Place for Chess in the Recreational World of Nineteenth Century Britain (Leseprobe – pdf 650 KB)
Rainer Schmidt: Die Geschichte der Chinesischen Schachidee
Dr. Arie van der Stoep: Medieval Chess and Draughts
Prof. Bernd-Peter Lange: Ein kläglicher Scherz? Die Schachpartie in Samuel Becketts Roman Murphy (Leseprobe – pdf 685 KB)
Siegfried Schönle: Schach und Tarnschriften … Streng Geheim!! Konspirativ!! Lebensgefährlich!!
Antonella Ziewacz: "Oh welche Lust Soldat zu sein!" Das verklärte Soldatenbild in Brettspielen der späten 1930-er (Leseprobe – pdf 718 KB)
Dr. Timothy Harding: Getting Things Right
Tagungsberichte (Board Games Studies Association Nürnberg, Chess Collectors International Paris, "Games of Empires" Saarbrücken)
Rezension: Manuel Aaron/Vijay D. Pandit: "Indian Chess History"
Important to read is Tim Harding's contribution on the books from Gino Di Felice:Chess Results1747-1900 and Chess Periodicals: An Annotated International Bibliography,1836-2008 McFarland,2010.
Robert Hübner did again a excellent research on the Congress of the British Chess Association of 1868-1869.
Conclusion:One of the most interesting chess magazines of this moment!

---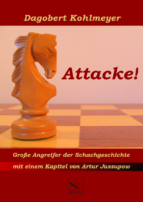 Attacke! by Dagobert Kohlmeyer
2016
Friedrich Eert-Strasse 16
66538
Neunkirchen
www.caissa-journal.de
E-mail Kundenservice@chaturanga.de
184 Pages
Price €19,95
ISBN:978-3-944158-17-4



The well known German chess author Dagobert Kohlmeyer comes with a smashing attack books based on the masters of attack, as Adolf
Anderssen,Paul Morphy,Rudolf Spielmann,Alexander Alekhine,Raschid Neshmetdinow,David Bronstein and the legendary Mikhail Tal!
Included are short biographies of our great attacking heroes, but you buy this book for the fantastic attacking games as for example the following
game from Rudolf Spielmann:
Spielmann,Rudolf - Walter,Max [B11]
Trentschin-Teplitz(Trencianske Teplice) Trencianske Teplice (8), 21.05.1928
1.e4 c6 2.Nc3 d5 3.Nf3 Nf6 4.e5 Ne4 5.Qe2 Nxc3 6.dxc3 b6 7.Nd4 c5 8.e6 fxe6 [8...cxd4 9.Qb5+ Nd7 10.exf7+ Kxf7 11.Qxd5+ Ke8 12.Qxa8]
9.Qh5+ Kd7 10.Nf3 Kc7 11.Ne5 Bd7 12.Nf7 Qe8 13.Qe5+ Kb7 14.Bf4 c4 15.Qc7+ Ka6 16.Nd8 Nc6 17.Qb7+ Kb5 18.a4+ Kc5 19.Qxc6+ Bxc6 20.Nxe6# 1-0.
Included are mating combinations where the readers are invited to play like our great heroes of attack!
Conclusion: Smashing work!
---
---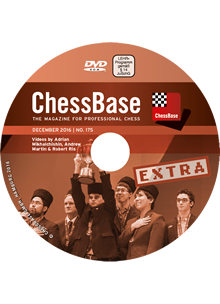 ChessBase Magazine extra issue 175 Extra
December 2016

Videos by Adrian Mikhalchishin, Andrew Martin & Robert Ris
ChessBase
http://www.chessbase.com

E-Mail
info@chessbase.com
ISSN 1432-8992
Euro 12.99

System requirements:
Minimum: Pentium III 1 GHz, 1 GB RAM, Windows Vista, XP (Service Pack 3), DirectX9 graphic card with 256 MB RAM, DVD-ROM drive, Windows Media Player 9, ChessBase 12/Fritz 13 or included Reader and internet connection for program activation. Recommended: PC Intel Core i7, 2.8 GHz, 4 GB RAM, Windows 8.1 or Windows 10, DirectX10 graphic card (or compatible) with 512 MB RAM or better, 100% DirectX10 compatible sound card, Windows Media Player 11, DVD-ROM drive and internet connection for program activation.


Again we have here a heavy loaded ChessBase Magazine files with 20.968 games and all played between October and December of 2016.
My Latvian here of this month goes to Nikolaus Kellner who had the courage to play the Poisoned g2 pawn variation of the Latvian Gambit:
Vojvodic,Dragoljub (1991) - Kellner,Nikolaus (1672) [C40]
Novi Sad Serbian op Novi Sad (3), 07.11.2016
1.e4 e5 2.Nf3 f5 3.Bc4 fxe4 4.Nxe5 Qg5 5.d4 Qxg2 6.Qh5+ g6 7.Nxg6? Qxh1+ 8.Bf1 hxg6 9.Qxh8 Ne7 10.Bh6 Qf3 11.Bg2 Qf7 12.Bxe4 d5
13.Bd3 Bf5 14.Bxf5 Qxf5 15.Na3 Nbc6 16.Be3 0-0-0 17.Kd2 Qh5 18.Qf6 Bh6 19.Rh1 Rf8 20.Qe6+ Kb8 21.c4 Rxf2+ 22.Kc3 Bxe3 0-1,please also
see The Latvian Gambit Lives by Tony Kosten.
The smashing video files go to Adrian Mikhalchishin,who was forced to play his own opening 1.d4 d5 2.Sf3 c5 3.dxc5 with reversed colours, Robert
Ris goes back in time with the game: Bronstein and Ljubomir Ljubojevic, at the Interzonal Petropolis Tournament of 1973 and Andrew Martin explains
in a very instructive way the classic: Capablanca-Tartakower, of New York 1924.


Conclusion: This is very important reference material!



---