CHESSBOOK REVIEWS
---

---
Latest book reviews of 1 May 2022

Wilhelminalaan 33 

7261 BP RUURLO 

The Netherlands.
John Elburg
---
---
---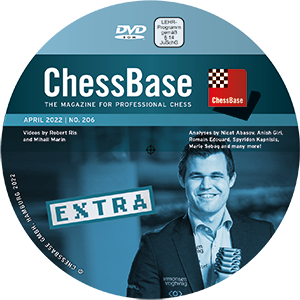 ChessBase Magazine issue 206 Extra

April 2022

ChessBase
http://www.chessbase.com

E-Mail
info@chessbase.com
ISSN 1432-8992
Euro 12,99

System requirements:
Minimum: Pentium III 1 GHz, 1 GB RAM, Windows Vista, XP (Service Pack 3), DirectX9 graphic card with 256 MB RAM, DVD-ROM drive, Windows Media Player 9, ChessBase 12/Fritz 13 or included Reader and internet connection for program activation. Recommended: PC Intel Core i7, 2.8 GHz, 4 GB RAM, Windows 8.1 or Windows 10, DirectX10 graphic card (or compatible) with 512 MB RAM or better, 10


The main file of this DVD is good for 31792 entries and all played between 28/12 2021 and 20/2 2022.
The lucky bag is well filled with 85 entries and where al games are more than excellent analysed.
A fine example of this all is the following lost from wonder boy Magnus Carlsen:
Abdusattorov,Nodirbek (2633) - Carlsen,Magnus (2856) [A28]
Wch Rapid Warsaw (10), 28.12.2021
[Giri, Anish]

1.c4 Nf6 2.Nc3 e5 3.Nf3 Nc6 4.e4 Abdusattorov seems to have prepared this system for the event and has used it very succesfully, not only in this game, but also in the crucial tiebreak match vs. Nepo. Abdusattorov scheint dieses System für die Veranstaltung vorbereitet zu haben und hat es sehr erfolgreich eingesetzt, nicht nur in dieser Partie, sondern auch im entscheidenden Tiebreak gegen Nepo. 4...Bb4 Alternative 4...Bc5 leads to a mess after 5.Nxe5! shot, which happened in Carlsen-Giri the same World Rapid & Blitz, but 2018. Die Alternative 4...Lc5 führt zu einem Schlamassel nach 5.Sxe5!, was in Carlsen-Giri in der gleichen Welt Rapid geschah. [The alternative Die Alternative 4...Bc5 leads to a mess after the führt zu einem Schlamassel nach dem Schuss 5.Nxe5! shot, which happened in Carlsen-Giri the same World Rapid & Blitz, but 2018. was in Carlsen-Giri bei der gleichen Rapid&Blitz-WM geschah, allerdings 2018.] 5.d3 d6 6.a3 Abdusattorov, but also other players alongside him, have tried 6.Be2 and 6.h3 as well. These lead to somewhat different lines, but conceptually, it is all part of the same family of these closed positions. Abdusattorov, aber auch andere Spieler neben ihm, haben auch 6.Le2 und 6.h3 versucht. Diese Züge führen zu etwas anderen Varianten, aber konzeptionell gehÃren sie alle zur gleichen Familie dieser geschlossenen Stellungen. 6...Bc5 Taking on c3 should not be too bad either, but everybody retreats nowadays. Auf c3 zu nehmen sollte auch nicht so schlimm sein, aber heutzutage geht jeder zurück. 7.b4 Bb6 8.Na4 Bg4 Natural. In a closed position, Black is ready to give up the bishops for the knights. The alternative is 8...Bd4!? which is more sophisticated, yet more common. Natürlich. In einer geschlossenen Stellung ist Schwarz bereit, die Läufer für die Springer zu heben. Die Alternative lautet 8...Ld4!?, was anspruchsvoller, aber häufiger ist. 9.Nxb6 axb6 10.Bb2 Bxf3 Taking unprovoked seems odd, but Black argues that the queen on f3 is misplaced and wants to capture before White goes Be2. Unprovoziertes Schlagen scheint seltsam, aber Schwarz argumentiert, dass die Dame auf f3 falsch platziert ist und will schlagen, bevor WeiÃY Le2 spielt. 11.Qxf3 Nd7 The knight is now likely heading towards e6, from where it will reinforce the control the d4 square. At this point it is very hard to say whether the bishops or the knights will prevail. Der Springer bewegt sich nun wahrscheinlich nach e6, von wo aus er die Kontrolle über das Feld d4 verstärken wird. Zu diesem Zeitpunkt ist es sehr schwer zu sagen, ob sich die Läufer oder die Springer durchsetzen werden. 12.g3 Intending a fianchetto, or perhaps Bh3!?, eyeing the e6 square. Er beabsichtigt ein Fianchetto oder vielleicht Lh3!? und hat das Feld e6 im Auge. 12...Qf6 Offering a queen trade. With Black having less space, trading queens is likely a sensible idea, though at this point it is hard to tell. Either way, White refuses the offer politely. Bietet einen Damentausch an. Da Schwarz weniger Raum hat, ist Damentausch wahrscheinlich eine vernünftige Idee, obwohl es zu diesem Zeitpunkt schwer zu sagen ist. Wie auch immer, WeiÃY lehnt das Angebot hÃflich ab. 13.Qd1 Interesting also was 13.Qh5!? provoking g6 for abstract purposes. Interessant war auch 13.Dh5!?, das g6 für abstrakte Zwecke provozierte. 13...Nf8 14.Bg2?! Slightly odd, as later White anyway moves the bishop to h3. Etwas seltsam, denn später zieht Weiß ohnehin den Läufer nach h3. 14...Ne6 15.0-0 White decides not to use the option of 15.f4!? with very unclear consequences. Weiß entscheidet sich, die Option 15.f4!? mit sehr unklaren Folgen nicht zu nutzen. 15...g5! Now Black stops f4 and White starts to slowly feel cramped, as he lacks pawn breaks and the bishops lack scope. Jetzt stoppt Schwarz f4, und WeiÃY fühlt sich langsam eingeengt, da ihm Bauernhebel fehlen und die Läufer keinen Spielraum haben. 16.Bh3 Finally White decides that tolerating the knight on e6 is not a good idea and sets up a trade on e6, before Black gets to shut off the bishop with h5-g4. Schließlich entscheidet Weiß, dass es keine gute Idee ist, den Springer auf e6 zu tolerieren, und bereitet einen Tausch auf e6 vor, bevor Schwarz den Läufer mit h5-g4 ausschalten kann. 16...h5 17.Bxe6 Qxe6 18.b5 A double edged move, pushing the knight back, but also further losing the flexibility of the queenside pawn structure. Ein zweischneidiger Zug, der den Springer zurückdrängt, aber auch die Flexibilität der Bauernstruktur am Damenflügel weiter verringert. 18...Nb8 19.f4 The opening of the g-file doesn't have any effect in the short term, as White's king can hide on h1, while Black king can hide on the queenside. What this is, however, is just an expansion, trying to open some files for the heavy pieces and hoping perhaps that one day, the b2 bishop will also see the light. Die Ã-ffnung der g-Linie hat kurzfristig keine Auswirkungen, da sich der weiÃYe KÃnig auf h1 verstecken kann und umgekehrt der schwarze KÃnig am Damenflügel. Aber es ist eine Expansion, mit der versucht wird, einige Linien für die Schwerfiguren zu Ãffnen, in der Hoffnung, dass vielleicht eines Tages auch der Läufer auf b2 das Licht erblickt. 19...gxf4 20.gxf4 Nd7 Black finishes his development again and has not much reasons to complain about the position. Schwarz beendet seine Entwicklung wieder und hat nicht viel Grund, sich über die Stellung zu beschweren. 21.Kh1 Qg4 Black wants to establish some contact on the kingside, to castle queenside more safely, not to have to worry for a4-a5 play. Schwarz mÃchte einen gewissen Kontakt am KÃnigsflügel herstellen, um den Damenflügel sicherer zu befestigen und sich nicht um das Spiel a4-a5 sorgen zu müssen. 22.Qf3 f6 Trading queens was safe enough, with Black having a very pleasant solid position with a better pawn structure, but Carlsen is being ambitious here and at this point rightly so. Der Damentausch war sicher genug, da Schwarz eine sehr angenehme, solide Stellung mit einer besseren Bauernstruktur hatte, aber Carlsen ist hier ehrgeizig und zu diesem Zeitpunkt zu Recht. 23.Qe3 0-0-0 24.f5 An interesting decision. White gets tempted with the idea to send a rook to g6, but the bishop on b2 starts look even more helpless now, with position getting further closed. Eine interessante Entscheidung. Weiß gerät in Versuchung, einen Turm nach g6 zu schicken, aber der Läufer auf b2 sieht jetzt noch hilfloser aus, und die Stellung wird weiter geschlossen. 24...h4 25.Rg1 Qh5 26.Rg6 Rdg8 27.Rag1 Rxg6 28.fxg6 White initiates further changes in the position. Now he is hoping to trade the g-pawn for the h pawn, gaining a passed pawn. The problem is that he should worry about the weak d3 pawn in the process, with Nc5 coming any moment. WeiÃY initiiert weitere Veränderungen in der Stellung. Jetzt hofft er, den g-Bauern gegen den h-Bauern zu tauschen und einen Freibauern zu bekommen. Das Problem ist, dass er sich dabei um den schwachen d3-Bauern sorgen sollte, da jeden Moment Sc5 kommen kann. 28...Rg8 29.g7? [29.Qh3 was the right way to start. Now Black has a cunning option. war der richtige Weg, um zu beginnen. Jetzt hat Schwarz eine schlaue Option. 29...Kb8! The knight is taboo due to the Qf3+/Rg2 h3! motif. Der Springer ist wegen des Motivs Df3+ /Rg2 h3! tabu. 30.Qg4 (30.Qxd7 Qf3+ 31.Rg2 h3!) 30...Qxg4 31.Rxg4 Nc5! Going for the d3 pawn. White seems to be ending up a pawn down here, but has good drawing chances once he gets some harmony, with Kg2-Kf3 and then the h-pawn running down the board. Angriff auf den d3-Bauern. WeiÃY scheint hier einen Bauern zu verlieren, hat aber gute Remischancen, sobald er etwas Harmonie erreicht, mit Kg2-Kf3 und dem h-Bauern, der das Brett hinunterläuft.] 29...Qh7? Missing a huge chance here. The g-pawn would not run away, while getting Nc5 in was huge. Er verpasst hier eine groÃYe Chance. Der g-Bauer würde nicht weglaufen, und Sc5 zu bekommen, war enorm wichtig. [29...Kb8! This is strong. With Nc5 coming next, it is hard to see how White can avoid a collapse of his position. Das ist stark. Mit Sc5 als Nächstes ist es schwer zu sehen, wie WeiÃY einen Zusammenbruch seiner Stellung vermeiden kann. 30.Bc1 Nc5 31.Qh3 Qh7 is a sample line, with g7 falling, but then also the d3 pawn. ist eine Mustervariante, bei der g7 fällt, aber dann auch der d3-Bauer.;
29...Nc5! also gets the desired effect, as the tactic we had already seen works well here too- erzielt ebenfalls den gewünschten Effekt, da die Taktik, die wir bereits gesehen haben, auch hier gut funktioniert - 30.d4 Ne6 31.Qh3 Kb8!] 30.Qh3! Now White gets to simplify into a very managable endgame, as he has got the passed h-pawn to compensate for the weak d3 pawn. Jetzt kann Weiß in ein sehr einfaches Endspiel abwickeln, da er den h-Bauern hat, der den schwachen d3-Bauern kompensiert. 30...Rxg7 31.Rxg7 Qxg7 32.Qxh4 Nc5 33.Bc1 White is rearranging his forces. Weiß ordnet seine Kräfte neu. 33...c6 34.bxc6 bxc6 35.Qh3+ Kb7 36.Qf3 Qh7 37.Bd2 Ka6 Black is hesitating for a little bit, waiting for the right moment to initiate simplifications with b5 or d5. The position is roughly balanced at this point, and things can now go very much either way, with each side having their trumps. Schwarz zögert noch ein wenig und wartet auf den richtigen Moment, um mit b5 oder d5 Vereinfachungen einzuleiten. Die Stellung ist zu diesem Zeitpunkt ungefähr ausgeglichen, und die Dinge können nun in beide Richtungen gehen, wobei jede Seite ihre Trümpfe hat. 38.Kg2 Qg7+ 39.Kf1 Qh7 40.h3 White chooses not to repeat moves. Not clear if this is a winning attempt, as Black also could deviate still. Weiß entscheidet sich, die Züge nicht zu wiederholen. Es ist nicht klar, ob dies ein Gewinnversuch ist, da Schwarz auch immer noch abweichen könnte. 40...d5 A lot of simplifications are being initiated. Draw is now the favourite. Es werden viele Vereinfachungen eingeleietet. Das Unentschieden ist jetzt der Favorit. 41.Qf5 Qg8 42.cxd5 cxd5 43.exd5 Qxd5 44.Ke2 White is yet to send his h-pawn up the board and in the meantime he has to take care of the d3 pawn. I would imagine a Qg2-Qd5 repetition likely. WeiÃY muss seinen h-Bauern noch das Brett hinauf beordern und in der Zwischenzeit muss er sich um den d3-Bauern kümmern. Ich würde eine Dg2-Dd5-Wiederholung für wahrscheinlich halten. 44...Kb5 [44...Qg2+ 45.Kd1 Qd5 Maybe Carlsen wasn't sure about wanting the draw at this point, or he got confused by 46.h4!? here, either way he chooses to play differently. Vielleicht war sich Carlsen nicht sicher, ob er zu diesem Zeitpunkt das Remis wollte, oder er war durch 46.h4!? verwirrt, so oder so entschied er sich, anders zu spielen.] 45.Be3 Qg2+ 46.Bf2 Ka4 Black is still well withing the drawing margin, but he starts to drift a little bit. Schwarz liegt immer noch gut in der Remisbreite, aber er fängt an, ein wenig zu driften. 47.h4 e4 48.dxe4 Nxe4 49.Qf3 Qg6 50.h5 The h-pawn starts to advance. Der h-Bauer beginnt vorzurücken. 50...Qe8! 51.Be3?! This is either a mini blunder or a draw offer, or perhaps both, as White was running short of time and draw would not be the worst of the results in this game. Das ist entweder ein kleiner Fehler oder ein Remisangebot, oder vielleicht beides, da Weiß in Zeitnot war und ein Remis nicht das schlechteste Ergebnis in dieser Partie wäre. [51.h6! was a better try. war ein besserer Versuch. 51...Ng5+ 52.Qe3 Qh5+ 53.Kd3 and now Black should not take on h6 because it is mate in 11 apparently, but instead keep the queen closer to the king. 53...Qd1+ amongst others, still holds at this point, though it is Black who has to now be very careful. und jetzt sollte Schwarz nicht auf h6 schlagen, weil es anscheinend Matt in 11 ist, sondern stattdessen die Dame näher am KÃnig halten. 53...Dd1+ ist unter anderem immer noch stichhaltig, obwohl Schwarz jetzt sehr vorsichtig sein muss.] 51...f5? A case of tactical blindness or a crazy winning attempt in the mutual time scramble. Ein Fall von taktischer Blindheit oder ein verrückter Gewinnversuch im gegenseitigen Zeitnotgemenge. [51...Qxh5! was an elementary draw. war ein elementares Remis.] This is definitely the turning point in this game. Dies ist definitiv der Wendepunkt in dieser Partie. 52.h6 Now black has a very hard task ahead, trying to juggle dealing with the h-pawn with the exposed king on a4. Finally Carlsen fails. Jetzt hat Schwarz eine sehr schwierige Aufgabe vor sich, denn er muss versuchen, den h-Bauern mit dem exponierten König auf a4 in Einklang zu bringen. Schließlich scheitert Carlsen. 52...Qe5 53.Kf1 Qd5 54.Kg2 Qg8+ 55.Kh3 Ng5+ Maybe not a very practical decision. In a position as clear cut, the youngster now could calmly play for a win, knowing he will never blunder a knight fork. Also, Black may well have missed the 61.Qg7! idea, thinking this forces a draw. Vielleicht keine sehr praktische Entscheidung. In einer so klaren Stellung kÃnnte der Youngster jetzt ruhig auf Gewinn spielen, da er weiÃY, dass er niemals eine Springergabel übersehen wird. AuÃYerdem kÃnnte Schwarz durchaus die Idee 61.Dg7! übersehen haben und denken, dass dies ein Remis erzwingt. [55...Qg6 Keeping the status quo was maybe a more practical defensive attempt, though it's hard to say during the game. Die Beibehaltung des Status quo war vielleicht ein praktischerer Verteidigungsversuch, obwohl das während der Partie schwer zu sagen ist.] 56.Bxg5 Qxg5 57.Qc6+ Kxa3 58.Qc3+ Ka4 59.Qc4+ Ka5 60.Qc3+ Ka4 61.Qg7! White plays for a win. It is well known that in the queen endgames, it is not about the number of pawns, but about how far is your furthest pawn that determines who is playing for a win. Here it is White, with the h-pawn being much further advanced than Black's pawns. WeiÃY spielt auf Gewinn. Es ist bekannt, dass in Damenendspielen nicht die Anzahl der Bauern darüber bestimmt, wer auf Gewinn spielt, sondern der am weitesten vorgerückte Bauer. Hier ist es WeiÃY, da der h-Bauer viel weiter fortgeschritten ist als die Bauern von Schwarz. 61...Qe3+ 62.Kh4 f4? Computer prefers direct 62...b5, not allowing the powerful idea that White excecuted in the game. Der Computer bevorzugt das direkte 62...b5 und lässt die starke Idee nicht zu, die Weiß in der Partie ausführt. [62...b5 63.h7 Qe4+ This is some kind of a vague perpetual. Dies ist eine Art vages Dauerschach.. 64.Kh5 Qh1+ 65.Kg6 Qg2+ 66.Kf6 Qc6+] 63.Qd7+! The move that won White the game. The direct h7 was tempting, but then Black does have a perpetual. Der Zug, mit dem Weiß die Partie gewann. Das direkte h7 war verlockend, aber dann hat Schwarz ein Dauerschach. [63.h7 Qe1+ It is not a direct perpetual, but apparently the king can't quite escape the checks. Es handelt sich zwar nicht um ein direktes Dauerschach, aber offenbar kann sich der KÃnig den Schachs nicht ganz entziehen.] 63...b5 64.h7 Now the the queen is not on g7 and the white king doesn't have to move in circles protecting it, there is no perpetual for Black. It becomes impossible to force a draw and just hanging in the game is a rather ungrateful task at this point, with seconds on the clock. Jetzt, da die Dame nicht mehr auf g7 steht und der weiÃYe KÃnig sich nicht mehr im Kreis bewegen muss, um sie zu schützen, gibt es kein Dauerschach für Schwarz. Es ist unmÃglich, ein Remis zu erzwingen, und in der Partie zu bleiben ist zu diesem Zeitpunkt eine ziemlich undankbare Aufgabe, mit nur noch Sekunden auf der Uhr. 64...Qe5? Losing move. Verlustzug. 65.Kg4? This is good enough to avoid the draw and keep the pressure on, but there was a very sophisticated win available at this point. Das ist gut genug, um ein Unentschieden zu vermeiden und den Druck aufrechtzuerhalten, aber es war zu diesem Zeitpunkt ein sehr anspruchsvoller Sieg möglich. [65.Qd1+!! first forcing the king to a3/b4 and only then going Qd8 apparently won. Zuerst den KÃnig nach a3/b4 zu zwingen und erst dann Dd8 zu spielen, hätte offensichtlich gewonnen. 65...Ka3 66.Qd8 Qe1+ 67.Kh5 Qe2+ 68.Kg6 Qe6+ 69.Qf6 Qe4+ (69...Qg4+ 70.Kf7 Qd7+ 71.Qe7+! this is the reason we need the king on a3/b4. Das ist der Grund, warum wir den König auf a3/b4 brauchen.) 70.Kg7 Qb7+ 71.Kg8 Qd5+ 72.Kf8 Qa8+ 73.Kf7 Qd5+ 74.Ke8 Qa8+ 75.Qd8 and now Qe4+ is met with Qe7! countercheck, while Qc6+ Kf7 Qc4+ Kg7 wins as well. und nun wird Qe4 mit Qe7! gekontert, während Qc6 Kf7 Qc4 Kg7 ebenfalls gewinnt. 75...Qe4+ (75...Qc6+ 76.Kf7 Qc4+ 77.Kg7) 76.Qe7+;
65.Qd8 here Black is still hanging on. Hier hält sich Schwarz noch. 65...Qe1+ 66.Kh5 Qe2+ 67.Kg6 Qe6+ 68.Qf6 Qg4+ 69.Kf7 Qh5+ 70.Kg7 Qg4+ 71.Kf8 Qc8+ 72.Kf7 Qd7+ 73.Qe7 Qd4] 65...f3 Carlsen just gives up the f-pawn, to ensure there are more checks against the king. 65...Ka3! was another defense according to the engine, but at this point it's not possible to understand whats going on, especially in the time trouble. Carlsen gibt einfach den f-Bauern auf, um sicherzustellen, dass es mehr Schachs gegen den KÃnig gibt. 65...Ka3! war laut der Engine eine weitere Verteidigung, aber zu diesem Zeitpunkt ist es nicht mÃglich zu verstehen, was vor sich geht, besonders in Zeitnot. 66.Kxf3 White's king eventually hides from checks, though that doesn't neccessarily mean it's a win for him, since he also has to queen the h-pawn. Der KÃnig von WeiÃY versteckt sich schlieÃYlich vor den Schachs, obwohl das nicht unbedingt bedeutet, dass er gewinnt, da er auch den h-Bauern umwandeln muss. 66...Qf6+ 67.Ke4 Qh4+ 68.Kd5 Qh5+ 69.Kc6 Qg6+ 70.Kc7 Qg3+ 71.Kb7 Qf3+ 72.Ka6 Qf6+ 73.Ka7 Qf2+ 74.Kb7 Qf3+ 75.Qc6 Qf7+ 76.Qc7 Qf3+ 77.Ka6 Qa8+ 78.Kb6 Finally the king hides from checks, but Black keeps on defending. Schließlich versteckt sich der König vor den Schachs, aber Schwarz verteidigt sich weiter. 78...Qh8! White still has to queen the soldier on h7. Weiß muss immer noch den Soldaten auf h7 zur Dame machen. 79.Qc2+ Ka3 80.Qd3+ Ka2 81.Kc5 Nodirbek is being very tricky, not grabbing the pawn just yet. Now Black should try to give a perpetual and if not possible, at least not lose by force. With the pressure being this high for this long and with the clock ticking, Carlsen finally collapses. Nodirbek ist sehr trickreich, da er sich den Bauern noch nicht schnappt. Jetzt sollte Schwarz versuchen, ein Dauerschach zu geben und wenn das nicht mÃglich ist, zumindest nicht forciert zu verlieren. Da der Druck so lange so hoch war und die Uhr tickt, bricht Carlsen schlieÃYlich zusammen. 81...b4? There is no point doing this. Black had to start checking. The position would objectively still be a draw, though in reality it's a very hard task to defend this. Es hat keinen Sinn, dies zu tun. Schwarz musste anfangen, Schachs zu geben. Die Stellung wäre objektiv immer noch remis, obwohl es in der Wirklichkeit sehr schwer ist, dies zu verteidigen. 82.Qd2+ Ka1?? Although the computer already points out that White is winning, I believe the win is not obvious if Black wouldn't blunder a queen trade. This move loses the game. Obwohl der Computer bereits darauf hinweist, dass WeiÃY gewinnt, glaube ich, dass der Gewinn nicht offensichtlich ist, wenn Schwarz keinen Damentausch zulassen würde. Mit diesem Zug ist die Partie verloren. 83.Qd4+! What a fight! Was für ein Kampf! 1-0.
The smashing video files cover Robert Ris with The Henning Schara Gambit, Mihail Marin: The Fianchetto System against Gruenfeld and the King's Indian and the "The brilliancy" which hold the above mentioned game!


Conclusion: There is no better way to keep abreast of latest developments!